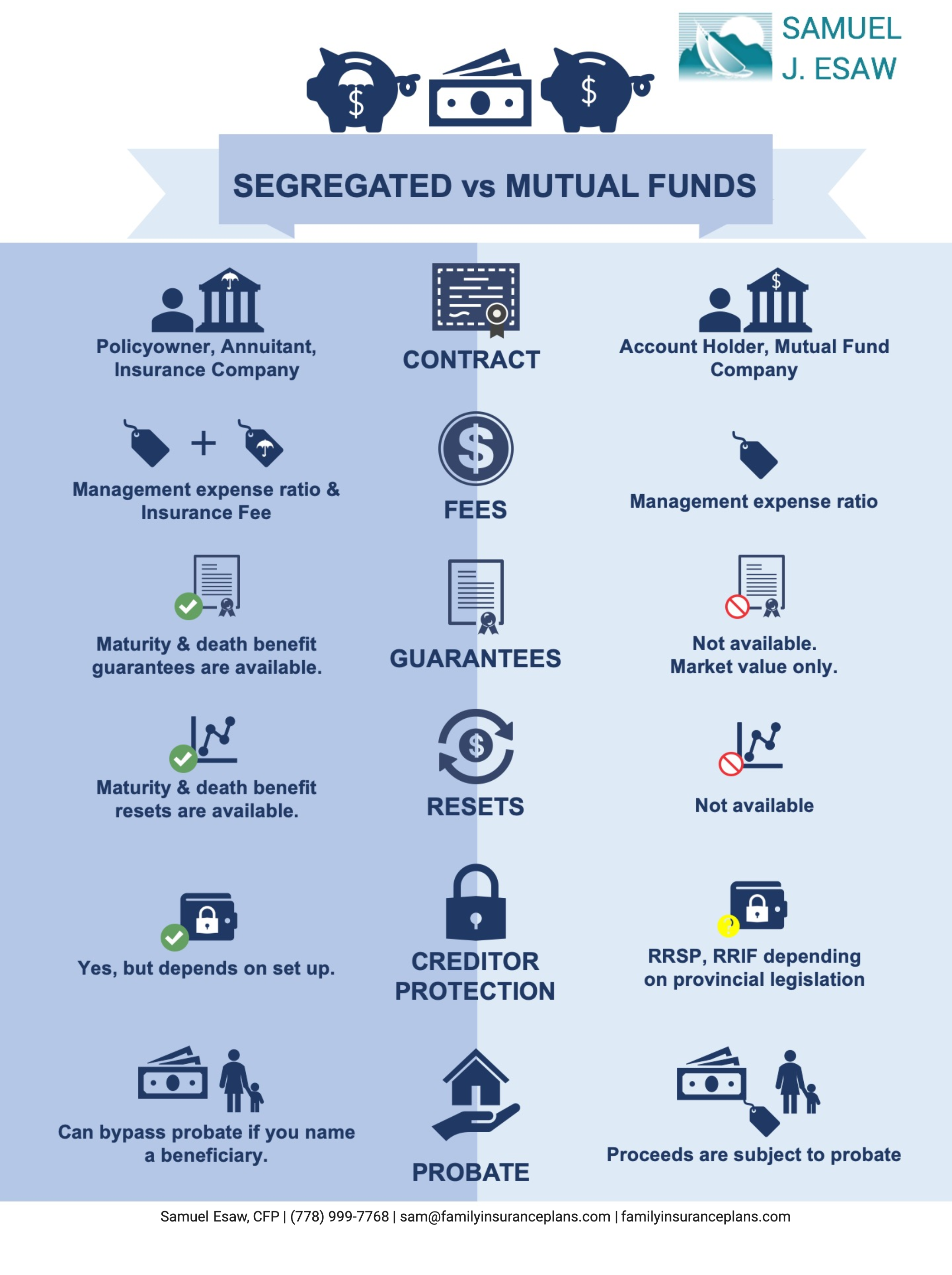 Segregated Funds and Mutual Funds often have many of the same benefits such as:
Both are managed by investment professionals.

You can generally redeem your investments and get your current market value at any time.

You can use them in your RRSP, RRIF, RESP, RDSP, TFSA or non-registered account.
There are key differences including:
Contract

Fees

Guarantees

Resets

Creditor Protection

Probate
Contract:
Segregated Funds: Policy owner, Annuitant and Life Insurance company

Mutual Funds: Account holder, Mutual fund and Investment Company
Fees
Segregated Funds: Management Expense Ratio & Insurance Fee (Typically higher)

Mutual Funds: Management Expense Ratio
Why is this important?
Since Segregated funds are offered by life insurance companies, they are individual insurance contracts. Which means….

Maturity Guarantees

Death Benefit Guarantees

Maturity and death benefit resets

Potential Creditor Protection (depends on the setup)

Ability to Bypass Probate
Mutual Funds do not have these features with the exception of possible creditor protection of RRSP, RRIF dependant on provincial legislation.
What are these features?
Maturity and Death Benefit Guarantees mean the insurance company must guarantee at least 75% of the premium paid into the contract for at least 15 years upon maturity or your death.
Resets means you have the ability to reset the maturity and death benefit guarantee at a higher market value of the investment.
Potential Creditor Protection is available when you name a beneficiary within the family class, there are certain restrictions associated with this.
Bypass Probate: since you name a beneficiary to receive the proceeds on your death, the proceeds are paid directly to your beneficiary which means it bypasses your estate and can avoid probate fees.
We can help you decide what makes sense for your financial situation.
https://familyinsuranceplans.com/wp-content/uploads/2019/07/segFund.jpg
810
1440
Samuel J. Esaw
https://familyinsuranceplans.com/wp-content/uploads/2018/08/combinedLogo.jpg
Samuel J. Esaw
2019-07-01 09:30:03
2019-07-02 16:30:12
The Difference between Segregated Funds and Mutual Funds-Infographic
When putting together your financial plan, there is no question about the benefits of consolidation. It's common to have your finances all over the place. Savings at the bank, investments with several financial institutions, retirement savings at another. The importance of having a financial plan is the ability to coordinate, consolidate and be able to implement your plan to achieve your goals.
By putting it all together, it allows for better planning where there's less confusion, more control over your finances, efficient investing and tax planning and creates a clear picture of what needs to be done to fulfill your financial goals.
Consolidation means you have an accountability partner on your side that will keep you on track and stay the course and address gaps in your plan and introduce you to specialists if needed.
Financial Planning issues that should be addressed are:
Wealth Protection

Is your disability insurance adequate?

What about your life insurance in case of premature death?

What do you do in case of a critical illness?

Estate Planning- what's the primary goal of your estate plan?

Wealth Accumulation

Are you looking to preserve or grow your investments?

Is your investment mix suitable for you?

Are your investments tax efficient?

When do you plan to retire?
These issues are just scraping the surface, talk to us and we can chat further on how we can help.
https://familyinsuranceplans.com/wp-content/uploads/2019/06/benefits-of-consolidation-coverImage.png
500
500
Samuel J. Esaw
https://familyinsuranceplans.com/wp-content/uploads/2018/08/combinedLogo.jpg
Samuel J. Esaw
2019-06-01 13:15:00
2019-06-01 05:21:09
Benefits of Consolidation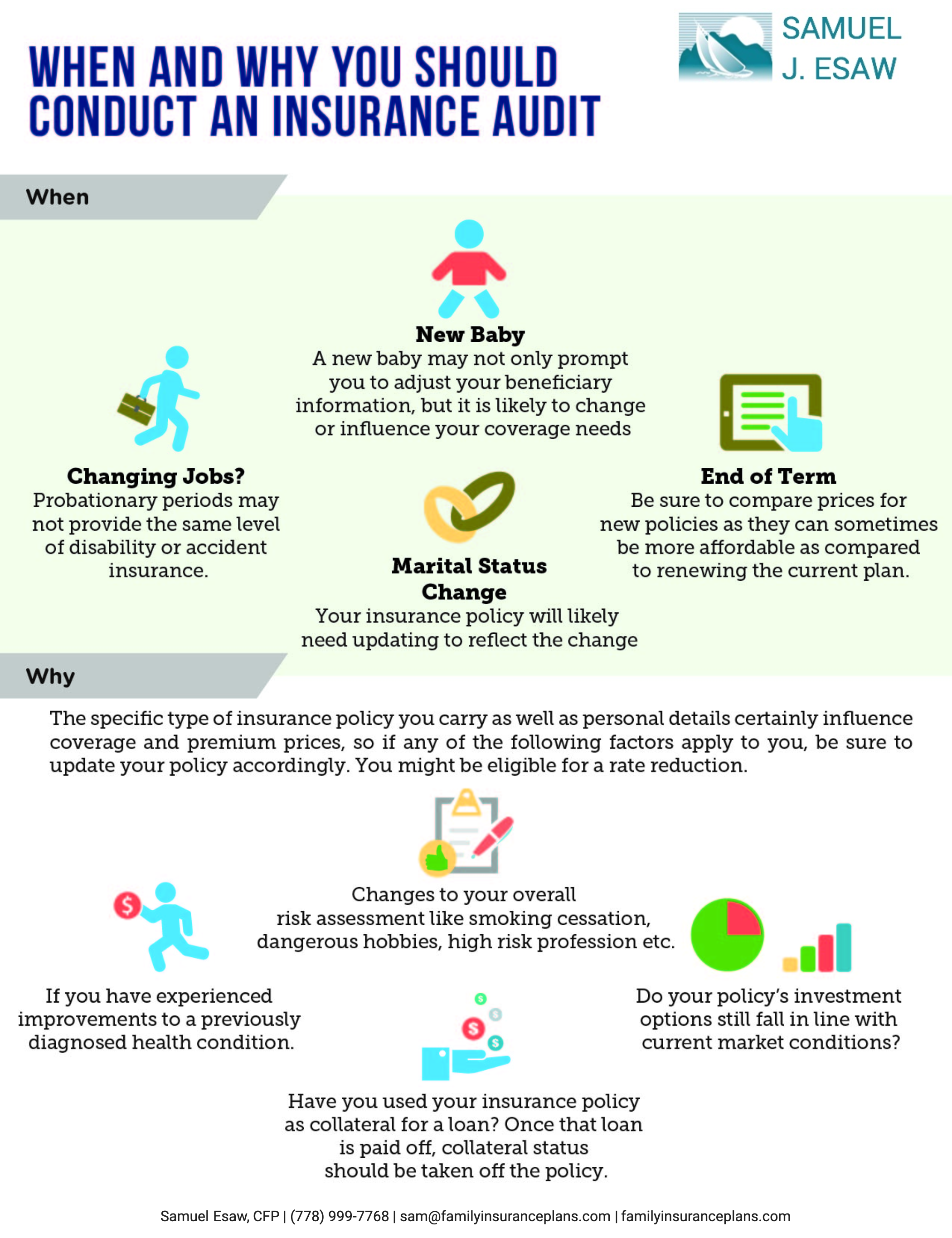 As our lives grow and change with variable circumstances, new additions, and job transitions, our needs for insurance will also evolve. Additionally, economic fluctuations and external circumstances that influence your insurance policy will need frequent re-evaluation to ensure that you are making the most appropriate and financially favorable decisions. Perhaps you aren't sure whether you should conduct an insurance audit or not. The following scenarios are usually a good indication that you should thoroughly assess and review your current policy contract:
Bringing new life into your family? A new baby may not only prompt you to adjust your beneficiary information, but it is likely to change or influence your coverage needs.

Changing jobs? Probationary periods may not provide the same level of disability or accident insurance.

Is your policy nearing the end of its term? Be sure to compare prices for new policies as they can sometimes be more affordable as compared to renewing the current plan.

Has your marital status changed? Your insurance policy will likely need updating to reflect such.
The specific type of insurance policy you carry as well as personal details certainly influence coverage and premium prices, so if any of the following factors apply to you, be sure to update your policy accordingly. You might be eligible for a rate reduction.
Changes to your overall risk assessment like smoking cessation, dangerous hobbies, high risk profession etc.

If you have experienced improvements to a previously diagnosed health condition.

Do your policy's investment options still fall in line with current market conditions?

Have you used your insurance policy as collateral for a loan? Once that loan is paid off, collateral status should be taken off the policy.
Insurance policies generated for business purposes should also be regularly reviewed to make sure the policy still offers adequate coverage to meet the needs of the company and includes the appropriate beneficiary information. With life happening so quickly, it can be easy to forget about keeping insurance policies up to date, however, major changes can have a profound impact on coverage and premiums. Be sure to conduct insurance audits often to ensure your policies are still meeting your needs.
Contact us to see how we can help.
https://familyinsuranceplans.com/wp-content/uploads/2019/05/why-conduct-an-insurance-audit-coverImage.png
500
500
Samuel J. Esaw
https://familyinsuranceplans.com/wp-content/uploads/2018/08/combinedLogo.jpg
Samuel J. Esaw
2019-05-01 13:30:00
2019-05-01 05:36:05
When and Why You Should Conduct an Insurance Audit
How to Make the Best of Inheritance Planning
Inheriting an unexpected, or even an anticipated, lump sum can fill you with mixed emotions – if your emotional attachment to the individual who has passed away was strong then you are likely to be grieving and the thought of how to handle your new-found wealth can be overwhelming and confusing but also exciting. One of the best pieces of advice in this situation is to give yourself some time before making any binding financial decisions. The temptation to quickly put the money to so-called 'good use' or to rush out and spend it can be strong but you must allow the news to sink in and also take some time to consider your options before you embark on the process of dealing with the inheritance. In the short term, put the money away in a high interest savings account and take time to research and think carefully about your financial goals and objectives and how this inheritance can help you to secure and maximize your financial future in the best way.
Although there is no one-size-fits-all approach to dealing with larger sums of money, here are some useful ideas of where to start.
Reduce your debt burden
If you have significant or high-interest debts, one of the safest options of all is paying this debt down. Not only will you achieve a guaranteed after-tax rate of return of your current interest rate, it can also add to your feeling of financial security and potentially offer you a more consistent financial picture. Debt often carries with it a significant interest rate – particularly on credit cards and overdrafts for example – so in many cases, eliminating this burden should be considered as one of your main priorities.
However, you may like to take careful note of the option below regarding investing the money instead as much depends on the prevailing interest rates and, of course, your appetite for risk, as you may well find an investment option with a potentially higher return more attractive.
Make investments
A particularly effective way of investing an inheritance is to add it to your retirement savings – especially if your nest egg is not looking quite as healthy as it should due to missed savings years for example. Those with lower or less reliable incomes should look upon this option as a great choice in particular.
Be charitable
After considering your own future financial needs, giving some of your wealth away to either charities or to family and friends is a good option to share out some of your inheritance to those who could benefit from it. What's more, donating to charity can also offer you some tax breaks which may reduce your overall tax burden.
Many individuals see this philanthropic route as offering them the opportunity to do something meaningful and rewarding with their wealth and contributing towards their own sense of moral duty and emotional wellbeing.
Make a spending plan
Of course, you are likely to be keen to spend some of your wealth on yourself and your family, particularly if your financial situation means that you have previously had to be more careful and prudent with money than you would have liked. A great way to do this is to create a spending plan so that you can enjoy the benefits of spending, without it significantly eating into money set aside for your financial planning goals. You could, perhaps, aim to set aside 10% of the inheritance just for yourself and loved ones to enjoy. The proportion will naturally depend on your circumstances but, in principle, it's a great idea as it allows you to balance sensible saving and investments with some short-term enjoyment of your wealth.
Talk to us, we can help.
https://familyinsuranceplans.com/wp-content/uploads/2019/04/How-to-Make-the-Best-of-Inheritance-Planning-coverImage.png
500
500
Samuel J. Esaw
https://familyinsuranceplans.com/wp-content/uploads/2018/08/combinedLogo.jpg
Samuel J. Esaw
2019-04-01 13:00:00
2019-04-01 05:15:08
How to Make the Best of Inheritance Planning
The 2019 budget is titled "Investing in the Middle Class. Here are the highlights from the 2019 Federal Budget.
We've put together the key measures for:
Individuals and Families

Business Owners and Executives

Retirement and Retirees

Farmers and Fishers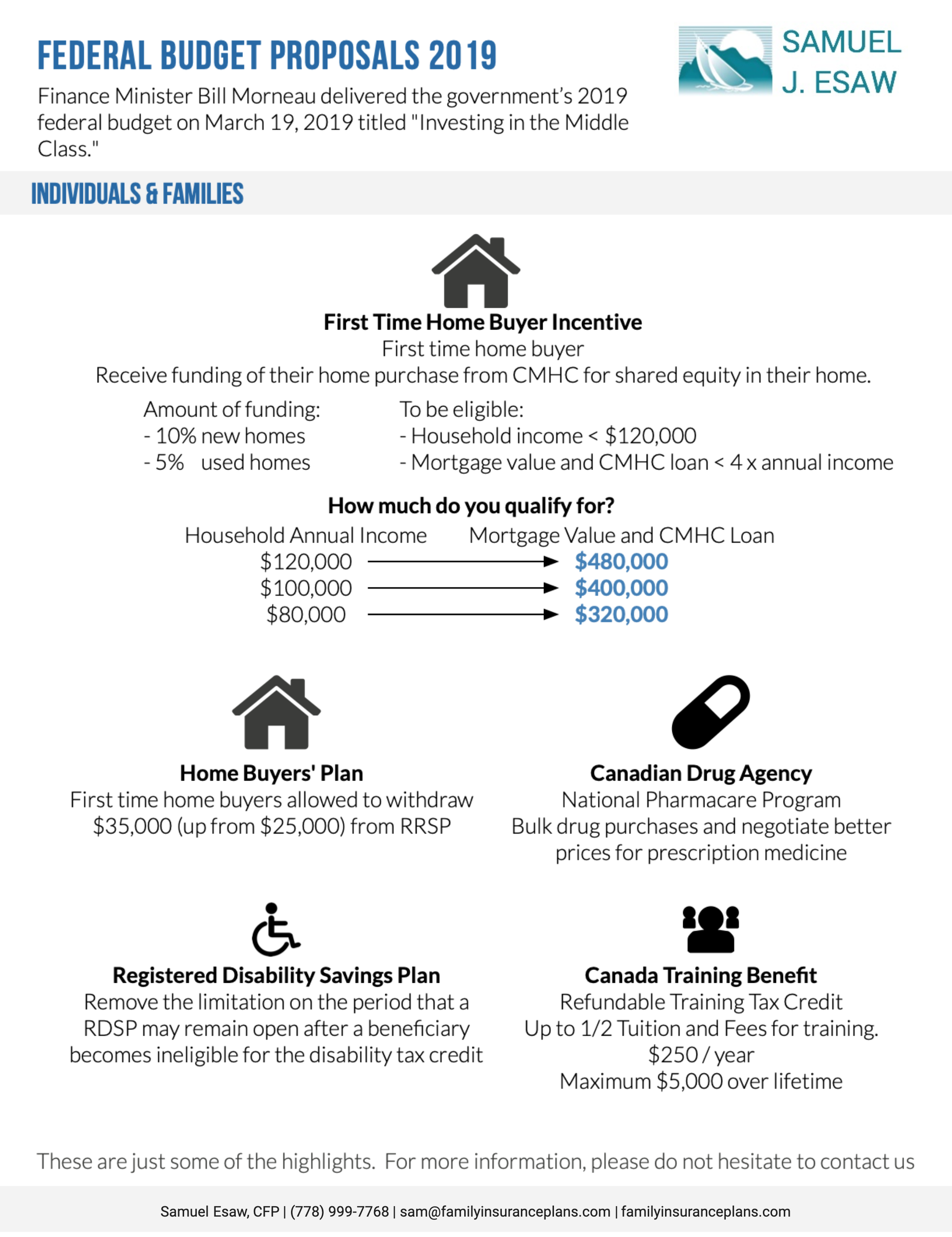 Home Buyers' Plan

Currently, the Home Buyers' Plan allows first time home buyers to withdraw $25,000 from their Registered Retirement Savings Plan (RRSP), the budget proposes an increase this to $35,000.
First Time Home Buyer Incentive

The Incentive is to provide eligible first-time home buyers with shared equity funding of 5% or 10% of their home purchase price through Canada Mortgage and Housing Corporation (CMHC).
Household income is less than $120,000.

There is a cap of no more than 4 times the applicant's annual income where the mortgage value plus the CMHC loan doesn't exceed $480,000.
The buyer must pay back CMHC when the property is sold, however details about the dollar amount payable is unclear. There will be further details released later this year.
Canada Training Benefit

A refundable training tax credit to provide up to half eligible tuition and fees associated with training. Eligible individuals will accumulate $250 per year in a notional account to a maximum of $5,000 over a lifetime.
Canadian Drug Agency

National Pharmacare program to help provinces and territories on bulk drug purchases and negotiate better prices for prescription medicine. According to the budget, the goal is to make "prescription drugs affordable for all Canadians."
Registered Disability Savings Plan (RDSP)

The budget proposes to remove the limitation on the period that a RDSP may remain open after a beneficiary becomes ineligible for the disability tax credit. (DTC) and the requirement for medical certification for the DTC in the future in order for the plan to remain open.
This is a positive change for individuals in the disability community and the proposed measures will apply after 2020.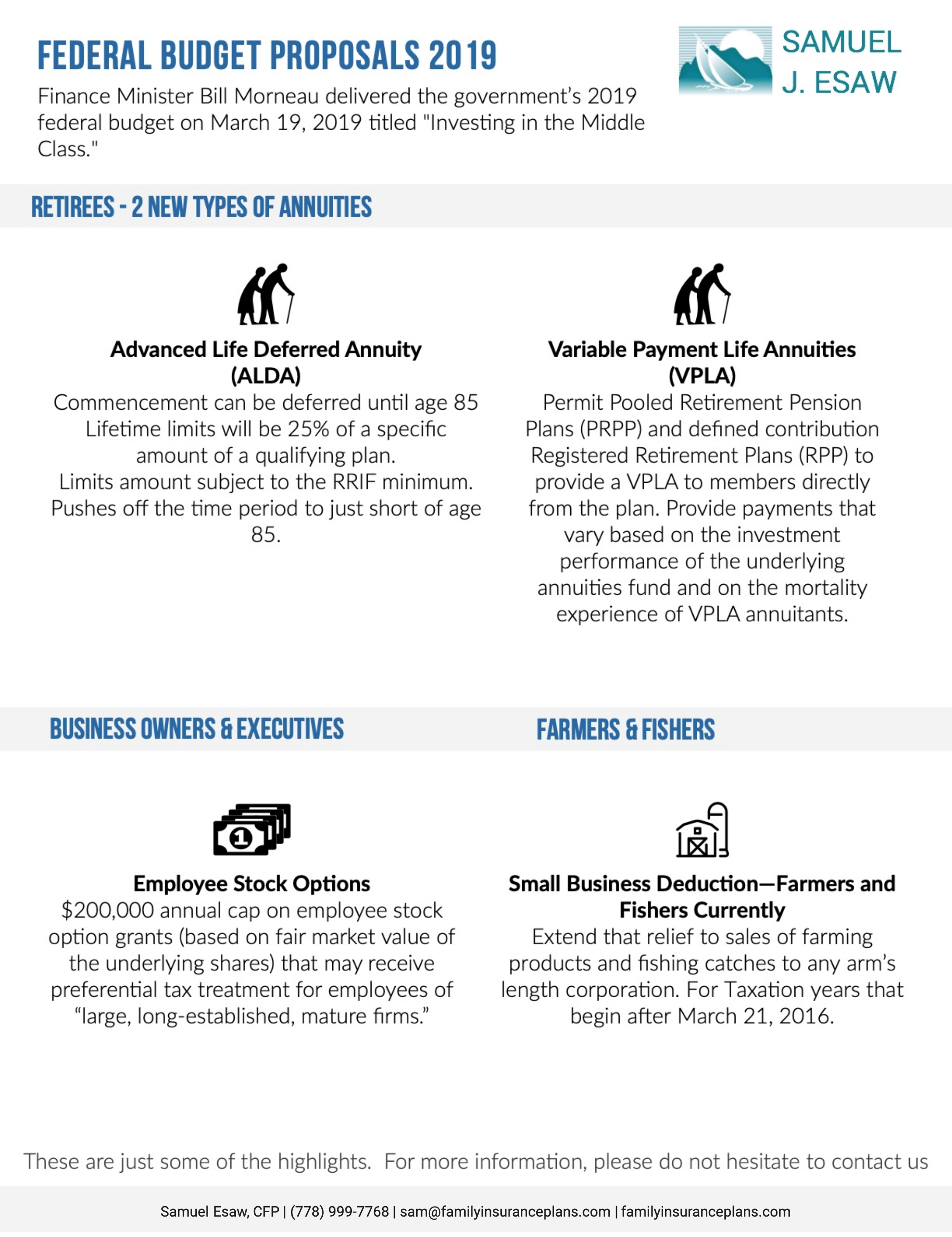 Business Owners and Executives
Intergenerational Business Transfer

The government will continue consultations with farmers, fishes and other business owners throughout 2019 to develop new proposals to facilitate the intergenerational transfers of businesses.
Employee Stock Options

The introduction of a $200,000 annual cap on employee stock option grants (based on Fair market value) that may receive preferential tax treatment for employees of "large, long-established, mature firms." More details will be released before this summer.
Additional types of Annuities under Registered Plans
For certain registered plans, two new types of annuities will be introduced to address longevity risk and providing flexibility: Advanced Life Deferred Annuity and Variable Payment Life Annuity.
This will allow retirees to keep more savings tax-free until later in retirement.
Advanced Life Deferred Annuity (ALDA): An annuity whose commencement can be deferred until age 85. It limits the amount that would be subject to the RRIF minimum, and it also pushes off the time period to just short of age 85.
Variable Payment Life Annuity (VPLA): Permit Pooled Retirement Pension Plans (PRPP) and defined contribution Registered Retirement Plans (RPP) to provide a VPLA to members directly from the plan. A VPLA will provide payments that vary based on the investment performance of the underlying annuities fund and on the mortality experience of VPLA annuitants.
Farming/Fishing will be entitled to claim a small business deduction on income from sales to any arm's length purchaser. Producers will be able to market their grain and livestock to the purchaser that makes the most business sense without worrying about potential income tax issues. This measure will apply retroactive to any taxation years that began after March 21, 2016.
https://familyinsuranceplans.com/wp-content/uploads/2019/03/featuredIMage.png
512
1024
Samuel J. Esaw
https://familyinsuranceplans.com/wp-content/uploads/2018/08/combinedLogo.jpg
Samuel J. Esaw
2019-03-21 06:58:00
2019-03-20 23:09:09
2019 Federal Budget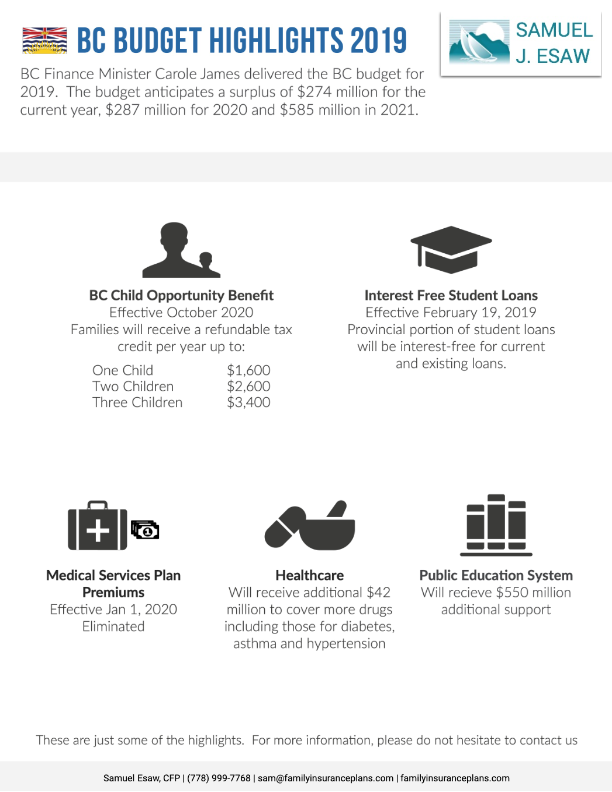 BC Finance Minister Carole James delivered the province's 2019 budget update on February 19, 2019. The budget anticipates a surplus of $274 million for the current year, $287 million for 2020 and $585 million in 2021.
The biggest announcements are:
BC Child Opportunity Benefit
Interest Free Student Loans
BC Child Opportunity Benefit
The BC Child Opportunity Benefit covers all children under 18 and can be applied for starting in October 2020. (This replaces the Early Childhood Tax Benefit where the benefit ended once a child turned six.)
Starting October 2020, families will receive a refundable tax credit per year up to:
$1,600 with one child
$2,600 with two children
$3,400 with three children
Families with one child earning $97,500 or more and families with two children earning $114,500 or more will receive nothing.
Interest Free Student Loans
The provincial portion of student loans will now be interest-free effective as of February 19, 2019. The announcement covers both current and existing student loans.
Medical Services Premium
As previously announced in the last budget, effective January 1, 2020, the Medical Services Premium (MSP) will be eliminated. In last year's budget update, MSP was reduced by 50% effective January 1, 2018.
Public Education System
The public education system will receive $550 million in additional support.
Healthcare
Pharmacare program will be expanded with an additional $42 million to cover more drugs, including those for diabetes, asthma and hypertension.
To learn how these changes will affect you, please don't hesitate to contact us. 
https://familyinsuranceplans.com/wp-content/uploads/2019/02/2019BCBudgetSquare-1.png
1024
1024
Samuel J. Esaw
https://familyinsuranceplans.com/wp-content/uploads/2018/08/combinedLogo.jpg
Samuel J. Esaw
2019-02-22 01:35:00
2019-02-21 17:55:19
BC Budget 2019
https://familyinsuranceplans.com/wp-content/uploads/2018/08/combinedLogo.jpg
0
0
Family Insurance Plans
https://familyinsuranceplans.com/wp-content/uploads/2018/08/combinedLogo.jpg
Family Insurance Plans
2018-11-15 01:11:21
2019-02-21 15:03:37
What is a Segregated Fund
https://familyinsuranceplans.com/wp-content/uploads/2018/08/combinedLogo.jpg
0
0
Family Insurance Plans
https://familyinsuranceplans.com/wp-content/uploads/2018/08/combinedLogo.jpg
Family Insurance Plans
2018-11-15 01:08:41
2019-02-21 15:03:37
Long Term Care Insurance
https://familyinsuranceplans.com/wp-content/uploads/2018/08/combinedLogo.jpg
0
0
Family Insurance Plans
https://familyinsuranceplans.com/wp-content/uploads/2018/08/combinedLogo.jpg
Family Insurance Plans
2018-11-15 01:07:28
2019-02-21 15:03:37
Key Person Insurance
https://familyinsuranceplans.com/wp-content/uploads/2018/08/combinedLogo.jpg
0
0
Family Insurance Plans
https://familyinsuranceplans.com/wp-content/uploads/2018/08/combinedLogo.jpg
Family Insurance Plans
2018-11-15 01:06:37
2019-02-21 15:03:37
Perm Insurance vs Term Insurance
https://familyinsuranceplans.com/wp-content/uploads/2018/08/combinedLogo.jpg
0
0
Family Insurance Plans
https://familyinsuranceplans.com/wp-content/uploads/2018/08/combinedLogo.jpg
Family Insurance Plans
2018-11-15 01:04:34
2019-02-21 15:03:37
Mortgage vs Individual Insurance
https://familyinsuranceplans.com/wp-content/uploads/2018/08/combinedLogo.jpg
0
0
Family Insurance Plans
https://familyinsuranceplans.com/wp-content/uploads/2018/08/combinedLogo.jpg
Family Insurance Plans
2018-11-15 01:03:09
2019-02-21 15:03:37
Protecting Your Wealth with Insurance
https://familyinsuranceplans.com/wp-content/uploads/2018/08/combinedLogo.jpg
0
0
Family Insurance Plans
https://familyinsuranceplans.com/wp-content/uploads/2018/08/combinedLogo.jpg
Family Insurance Plans
2018-11-15 01:02:01
2019-02-21 15:03:37
Estate Maximization
https://familyinsuranceplans.com/wp-content/uploads/2018/08/combinedLogo.jpg
0
0
Family Insurance Plans
https://familyinsuranceplans.com/wp-content/uploads/2018/08/combinedLogo.jpg
Family Insurance Plans
2018-11-15 01:00:45
2019-02-21 15:03:37
Mutual Fund vs Seg Fund
https://familyinsuranceplans.com/wp-content/uploads/2018/08/combinedLogo.jpg
0
0
Family Insurance Plans
https://familyinsuranceplans.com/wp-content/uploads/2018/08/combinedLogo.jpg
Family Insurance Plans
2018-11-15 00:58:59
2019-02-21 15:03:37
Asset Allocation
https://familyinsuranceplans.com/wp-content/uploads/2018/08/combinedLogo.jpg
0
0
Family Insurance Plans
https://familyinsuranceplans.com/wp-content/uploads/2018/08/combinedLogo.jpg
Family Insurance Plans
2018-11-15 00:52:52
2019-02-21 15:03:37
RRSP vs TFSA